Discover more from Regulated State
An inside look at Colorado's cannabis industry and burgeoning psychedelics sector
Inside the expansion of 3 CO cannabis companies during a downturn
Also: Meet the 72-year-old rocking the social-equity game and check out BIPOCann's mentorship program
Hi there! It's been a couple weeks which must mean I'm all up in your inbox — again. Thanks for having me.
Keep reading for a look at three Colorado cannabis companies that are expanding despite the current state of the cannabis economy. Learn more about BIPOCann's recent social-equity mentoring graduation with insights into the current state of things from Founder Ernest Toney; and the regular Social Equity Spotlight featuring a septuagenarian who found his niche and is growing his b2b delivery business.
And speaking of the current state of the cannabis economy, the state just released its May sales numbers and, when looked at with April's numbers, well, things are pretty bad. And I'll be the first to admit that my hypothesis challenging the current industry consensus on the state of the economy needs some tweaking. I'm working on it and you'll have an email soon for paid subscribers with my updated theory. It's really already written — and just a matter of figuring out the right timing for a send.
Don't forget to subscribe for free, or upgrade to a paid membership for just $5 a month ($50/year). That $5 gets you extra content in each newsletter and bonus off-schedule emails featuring exclusive insights and breaking news. Plus it makes this labor of love just a little more rewarding :)
OK let's get going with the briefs:
Happy 710! I don't celebrate. I've never dabbed. And in my typical contrarian fashion, I think that one weed holiday each year is enough. Sorry, y'all. See you on 420.
---
The inaugural UC Berkeley Psychedelics Survey was released Wednesday, showing that nearly two-thirds of American voters at some level support creating a "regulated legal framework for the therapeutic use of psychedelics." More than three-quarters support "making it easier for scientists and researchers to study psychedelics and understand their effects. Nearly half (49%) support "removing criminal penalties for personal use and possession of psychedelics," while 56% are in favor of "obtaining FDA approval so that people can access [psychedelics] by prescription."
And 51% of voters have a "first-degree" connection to the use of psychedelics, "reporting that either they or someone close to them has used a psychedelic." Imagine if they knew how many more of their friends actually partied hard in their past lives or are microdosing daily or tripping on weekends.
The UC Berkeley Center for the Science of Psychedelics polled 1,500 registered voters and has a probable 2.5% margin of error.
---
The City and County of Denver released its 2023 Marijuana Annual Report, featuring a first-of-its kind, full-page farewell from term-limited Mayor Michael Hancock who'll be leaving office in just a few days.
"Thanks to the hard work of the team to craft and enforce strong regulations, Denver serves as a model to other cities and states as they implement marijuana regulatory systems," Hancock said in the letter. "When Amendment 64 to legalize marijuana was put to Colorado voters, many feared that youth marijuana use and crime would skyrocket. To date, none of the extreme negative predictions about legalization have come to pass in the Mile High City."
He also touted the tax revenue and its use in youth education.
You gotta give the mayor credit. I reached out to his office and other business leaders who campaigned hard against Amendment 64 for my last Denver Business Journal cover story in early 2022. I showed all of them quotes from 2012 and asked how they feel today. Hancock was the only one who, and I paraphrase, was like, "I was wrong." Everybody else hedged significantly. You can check it out here, but it's most likely paywalled.
One thing the city is incredibly proud of, I was told by the communications director of Denver's Excise and Licenses department, which regulates cannabis businesses in the city, is its social-equity efforts.
"As of [July 6], Denver has issued 32 marijuana business licenses to social equity applicants and has 31 applications pending, which puts Denver among the most successful social equity programs in the country compared to other cities with legalized adult use marijuana," Eric Escudero told me in an email.
That number wasn't included in the report because licensing continues past the date the report was issued.
---
3 cannabis CPG companies expanding in a downturn — and how they're doing it
Despite the typical legacy-media headlines, and the very real struggles of some independent operators and social-equity entrepreneurs, it's not all doom and gloom in Colorado's cannabis sector.
I spoke this week with three Colorado-headquartered cannabis businesses, all CPG, that are currently in expansion mode — and with big plans for the future.
"Our goal is to be a national wellness brand, and our core products are our topicals line," Escape Artists CEO Alison Di Spaltro told me over the phone. "We're focused on being a leader in the topicals category on a multistate level, and I think being the market leader in Colorado has really helped us get these partnerships to new markets."
The company manufactures and sells infused pre-rolls, edibles and tinctures as well.
Escape Artists this past May struck a partnership with Nevada-based Deep Roots Harvest to distribute its THC and CBD-infused topicals in the state.
Sales went live in Missouri yesterday, Di Spaltro told me, and the company began selling its topicals in Michigan in January.
Escape Artists is "really leaning into the markets we just launched in," Di Spaltro said, but said they are exploring a couple of East Coast markets for future expansion.
O.Pen, meanwhile — which still remains a Denver brand despite its parent company now being publicly traded, Toronto-headquartered Slang Worldwide — is actually purchasing out-of-state vertically integrated businesses.
"O.Pen [products have] been sold in Vermont for about eight years through a partnership with CeresMED," Vice President of Marketing Brittany Hallett told me in a recent video call.
Through conversations between O.Pen and Ceres, the decision was made that the former would acquire the latter. When Vermont opened up the market for retail sales in October of last year, Ceres was the first to open its doors.
Colorado and Vermont are now the company's core markets, Hallett said, but O.Pen still operates in 13 states and is "thoughtfully looking at other markets that are emerging or where adult-use is coming."
O.Pen just launched its "Out of Office in Summer Land" promo that includes the revealing of a new battery and strain (Maui Wowie). The company will be holding raffles at participating stores across its national footprint, each with a $200 value, Hallett said. The winning packages include branded slide sandals, a puffer bucket hat, sunglasses, a pickleball racket set and, for Coloradans, a $50 Illegal Pete's gift card.
"We're really trying to extend the brand's personality," Hallett said.
And at Wana Brands, arguably Colorado's biggest edibles success story, growth has meant sometimes stepping back and rethinking partnerships.
The Boulder-based company's edibles can be found in 15 U.S. states plus Puerto Rico, and in Canada.
That's three more states than it was operating in a year-and-a-half ago when Canopy Growth announced it was buying the rights to acquire Wana for $297.5 million. But Wana has actually pulled out of states, including California and Oregon, while entering states like New Jersey and New Mexico.
It's also paused operations in states like Florida and Arizona when partnerships didn't quite work out the way they were expected to, and in Maryland when it had to rethink its growth strategy.
"We were out of those markets for significant periods of time," Chief Marketing Officer Joe Hodas told me in a video chat this week.
But the focus was on finding the right partners to make sure things were done right in all three states. Nobody wants to make the same mistake twice. All three states are live again.
And now Wana Brands is "pretty close to final talks in five new states in the next six-to-nine months," Hodas said.
Wana too is launching a summer promotion: "Enhance Your Summer," with the release of a Lime Margarita 1:1:1 (CBG, CBD, THC) gummy. The company struck a partnership with Rocky Mountain PBS to sponsor a Red Rocks concert series and plans "more than $15,000 in premium giveaways" including a "$10,000 dream vacation" and products from companies like Apple and Yeti. Those quotes are from the press release.
All three companies are facing similar challenges, and each has their own approach to expansion. Here are some of the obstacles and tactics the companies are using:
This content is for paid subscribers only. Upgrade for just $5 and have full access to every newsletter, plus some extras.
---
How Wana Brands struck a partnership with PBS for a Red Rocks concert series
This content too is reserved for paid subscribers. Sign up today!
---
Social Equity Spotlight: Gogi Delivery
A 72-year-old white guy might not be the first person you think of when you hear "social equity," but Gary Arnold might surprise you in a lot of ways. The founder and owner of Gogi Delivery, along with his son, even seems to have cracked the code when it comes to a profitable social-equity delivery service.
He found a niche and he's growing. And boy does he have a story to tell.
Arnold took some time to chat with me over the phone and then complete this Q&A, which has been lightly edited for style.
Tell us about your business — what is it and who are you working with? We are Gogi Cannabis Delivery LLC. Gogi is a cannabis transport and delivery service. We provide B2B same-day service for fresh frozen, fresh flower, MIP and grow fields across the state.
Presently we are providing local deliveries for Clear Colorado Group as well as providing same-day fresh frozen service for Dalwhinnie Farms in Ridgeway.
You've taken a different approach to delivery than many of your social-equity peers. Tell us about the "see a need, fill a need" tactic that you took. When I originally applied for my Social Equity License, I intended to operate a B2C operation. I found out quickly that the dispensaries were doing their own delivering and had no interest in using social-equity, third-party delivery.
After much frustration, I started to look for other avenues to use my license. Through some networking, I happened to meet Richard Batenburg, Sr., owner of Clear Cannabis. After discussing the nature of where the B2C delivery was, he offered me an opportunity to transport from his facility to local distribution centers for a few of their clients.
This changed my whole outlook toward delivery. I saw where the real opportunity would be in transporting so I began marketing myself as a transporter not B2C. At that point, I reached out to my direct competition and asked if they had any business I could help with. They said they had an opportunity they would share with me fresh frozen flower delivery to the MIPs. There was only this company and one other who only provided that service on a limited basis, so I jumped on the opportunity. I equipped my van with onboard freezers and battery inverters and went to work.
I presently transport for Dalwhinnie Farms. Specializing in this service on top of providing standard transport for flower products has enabled me to presently be in negotiations with several very large potential clients including the entire co-op of Area 420 in Moffat. Now, I think I am the only transporter who offers same-day frozen service across the Front Range and beyond on a weekly basis.
How's business? Since I converted to fresh frozen and expanded my routes, I am getting contacts from all over the state inquiring about the new guy doing fresh frozen.
You're also a master networker — do you have any tips for folks looking to start a business when it comes to getting the word out and/or building relationships? Through the years, I have had several sales jobs that were straight commission. I learned the magic of networking. This taught me the only way to get business was to make connections. So, I started going to associations, clubs events in my field of business at the time. I have been able to apply this within the cannabis industry by just becoming involved.
Now, tell us your story. I was born in 1951 in Memphis, Tennessee. I truly grew up with the hardest times for marijuana prohibition. I discovered marijuana in my teens. It did not take long for me to figure out that weed cost a lot of money and I did not have either money or weed. Soon, I figured out that if I got in good with the guys smuggling and the guys growing weed, I could get them to let me drive weed from Florida.
This turned into a very lucrative transport business. I could make money and had all the weed I wanted. What a great deal, right? This went on for a few years until the federal government got wind of my little operation. Long story short, I got busted. The government took all my money and what they didn't take, the lawyers did. I was sentenced to five years and spent three years in federal prison.
So, 18 years ago, I decided to move to Denver to be with my son who lives here. I was watching TV in 2018 and I saw an interview with two owners of a company called Doobba and they were recipients of a social-equity license to deliver marijuana and he got the license because he had been busted before so he qualified.
I told my wife, "I can do that too!"
So, I began pursuing my license. It took me two years of struggling but I was finally successful: I now hold a medical transport and delivery and a recreational transport and delivery license and am one of only three transporters with a warehouse staging facility.
The irony of it all is I am doing the exact same thing legally that I was imprisoned for three years for.
I just transport weed! Not a crime.
"The biggest killer on the planet is stress and I still think the best medicine is, and always has been, cannabis." - Willie Nelson
What is Colorado doing right when it comes to social equity? And how could it improve? I think Colorado's social equity program has great ideas, but there is not enough follow-through for the applicants. There are many who apply, get the license, then realize they cannot make it in this competitive market. I know because I have spoken to many of them. The state could help with education and providing some form of capital or partnerships with established businesses who could help mentor and provide some much-needed direction. As it stands, there is no help for someone who receives their license.
What's next for you? I will continue to transport and expand my routes, adding more clients. I want to expand my business and employ more social equity workers. I am working to get into the state of Tennessee with my son. He is pursuing a transport license there.
It's an interesting time, to say the least. I'm not stopping now!
---
Inside BIPOCann's mentorship program
This past Saturday, nine social-equity entrepreneurs graduated from an official mentorship program that was a partnership between the Colorado Office of Economic Development's Cannabis Business Office and Denver-based membership organization and consulting firm BIPOCann.
All of the entrepreneurs received grants through the CBO earlier this year. A total of $750,000 was doled out in two different types of funding: $25K Foundational Grants designed to help businesses in early startup stages and $50K Growth Grants designed for companies who are, well, growing.
Twenty-seven recipients received grants in total and all were eligible to participate in the mentorship program. In the end, 13 participated and nine completed the course.
"It [the partnership/program] was essentially saying, "Hey, look: You know we see that you're providing some grants and some funding to help people. That's awesome. But after those folks get the grants, then what?" Founder Ernest Toney told me during a phone call. "We had already built these relationships with members in our network, with media entities, with conferences — and really, we're just trying to find ways to increase the networking opportunities for the grant winners to essentially help with referrals or vendors. We're also trying to find ways to increase entrepreneurial and business education, and literally also create this environment of community because there are a lot of people that might, you know, win a grant and that's cool. Like you have these funds, but maybe you're a delivery person that's looking for a retail partner or maybe you're a cultivator that is looking for a retail partner."
Toney's goal has always been to help connect people — whether that's social-equity entrepreneurs or established cannabis companies looking for Black- or women-owned contractors to hire.
Through the mentorship program, social-equity grant winners were able to attend the recent Cannabis Marketing Summit at no cost to them. Some will get to go to Benzinga Chicago in September or MJBizCon in November. All of these events will provide opportunities for these new business owners to have face time with investors, potential partners and potential clients.
One goal of the mentorship program was to ensure they're ready.
Toney brought in mentorship partners like RZA Legal, 25secondsPR, Capfluent and Axial Compliance Consulting (and a half-dozen others) to offer both one-on-one consulting and group learning.
An in-person foundations workshop, for example, had the mentees doing both group and individual SWOT analyses. They were introduced to the Lean Canvas business model.
"We had them think about their value proposition: What is something that you offer that you know can't be replicated, or that you can do that others can? So we were really trying to get these folks to think differently about building instead of being in their business," Toney said.
After that workshop, and a month of one-on-one mentorship and some group calls before that, the mentees spent about six weeks on brand building, storytelling and networking/relationship-building.
"We had some webinars that were focusing on how to craft a compelling brand story or narrative and pitch to basically help people get more effective with communicating. Because we believe that the way you communicate the stories that you tell are going to be critical for you to win influence, contracts, capital."
Full-service marketing and PR experts were brought in to help with that, while local entrepreneurs like Jarell Wall, CEO of Gentleman Quinns Blunts Co. came in to tell their personal success stories that were built on good storytelling, packaging and other branding tactics.
They hosted a media day that offered professional headshots, media training through interviews that they'll receive copies of and be able to use in their own marketing.
On Saturday, July 8, they graduated.
"That was really just our opportunity to celebrate the people for their hard work and their engagement and participating in the event," Toney said.
Here are the social-equity grant recipients who participated in at least some aspect of the program: Bachaz, Better Days Delivery, Blaze To-Go Delivery Service, Gogi Cannabis Delivery, Grassberries, Kilo Enterprises, Potstar, Queen Mary, Snooty Foxx, Apex Herbology, Growzillas528, Highly Positive Cannabi, Millie's Edibles. The first nine in that group completed the entire curriculum.
---
NEW DROPS
Native Roots has released a new line of super fancy joints: Gold Label Pre-Rolls that come with a glass tip. The company points to a "booming" market for pre-rolls, which have seen double-digit year-over-year sales growth.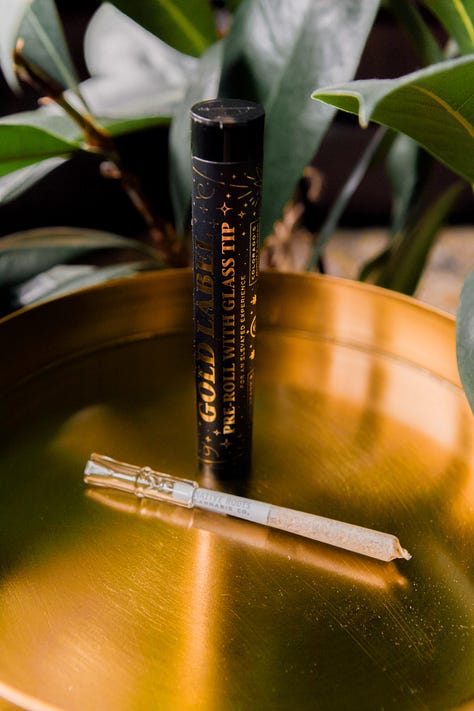 "Our Gold Label Pre-Roll makes it easy for more people to enjoy our premium hand-picked Gold Label flower on the go in a convenient and stylish format," Jason MacDonald, director of cultivation operations at Native Roots Cannabis Co. said in a press release. "Like all strains grown at Native Roots cultivation facilities, the flower in our Gold Label Pre-Rolls is grown with the same high standards and is tested extensively before becoming eligible for the Gold label."
Strains include:
Free M.O.

Lato Cake 95

San Fermodo

Chemlato Cake

Kandy Applez
Hey, you made it all the way! I'm flattered. I'd be even more so if you subscribed today :)